With Youth launches
Posted:October 1, 2022
Children and Young People's Digital Wellbeing Service launched, to help young people manage their worries
Hertfordshire's children and young people, who are experiencing mental health problems and their parents/care givers, will be able to use a new digital early help service in October, without the need for a professional referral.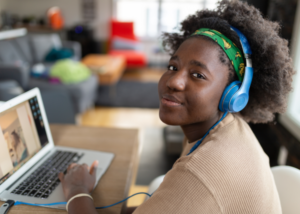 Hertfordshire's Children and Adolescent Mental Health Services (CAMHS) System Redesign Programme has made an ongoing commitment to improving access to emotional and mental wellbeing support at the earliest point. As part of this commitment, Hertfordshire Mind Network (HMN) will be launching its With Youth Children and Young People's Digital Wellbeing Service this autumn, in partnership with BFB Labs, providers of digital therapeutics for children and young people's mental health. HMN already provides a young people's helpline and instant messaging service for 10-17 year olds and/or their parents/care givers. This new service will expand on that, providing support to younger age ranges, and will be initially available from Monday to Friday, 2-10pm at: www.withyouth.org
Children and young people between the ages of 5-18 will be eligible to use the new service, to enable them to seek support if they are experiencing problems with their emotional and mental wellbeing. This might include problems such as mild to moderate anxiety, behavioural difficulties, school attendance, low mood, relationship difficulties, bullying or self-harm. The service is not for children and young people who are in crisis*.
Digital Directory, Self Help Library and more
The new service will allow users to access a digital directory of emotional wellbeing and mental health information. There will also be a library of evidence-based resources, including goal-based worksheets, booklets, quick-tip information sheets, videos and sound bites. It will have an easy to use online referral form that young people, their parents/care givers or you, as professionals working with the children and young people, can use to seek support. Depending on the young person's needs, support workers at HMN can also offer additional one to one support and/or group support and/or signpost/refer them to the service/s they need.
Lumi Nova: Therapeutic Digital Intervention Gaming App
7-12 year olds (school years 3 to 7), who are experiencing anxiety, might also benefit from an evidence-based digital therapeutic intervention delivered via a game app called Lumi Nova: Tales of Courage. The game is based on Cognitive Behavioural Therapy and facilitates the most effective components of it.
Designed by BFB Labs, this digital intervention empowers children, by teaching them life-long skills for self-managing their emotions and building their resilience. With support from a parent or other trusted adult (this could be a professional working with them), the child can complete goals in small "graded" steps, using fun challenges, set in both the game and the real world. They can play it, without having either an assessment or a diagnosis and it is compatible with most tablets and smartphones (iOS and Android). It has been co-created with children, parents, school staff, clinical psychologists and leading academics in children's mental health.
David Evans, Chair of Hertfordshire's Children and Young People's Emotional and Mental Wellbeing Transformation Board said:
It's really important for us all to help children and young people develop the skills to look after their emotional health, as well as to feel confident about asking for help if they are struggling. We're delighted Hertfordshire is introducing this new and innovative digital service, to help children and young people get the help they need, at the earliest possible stage.
Jo Marovitch, CEO at HMN said:
At HMN, we meet over 6000 adults a year with mental ill health. These adults were once children and young people, who needed to reach out and be heard. We must focus on prevention, and accessible, relevant programmes for our children and young people to help them look after their mental health – and see that reaching out to 'With Youth', rather than trying to cope alone with worry and overwhelming feelings, is the healthy, safe and positive choice. Having good emotional and mental wellbeing throughout life, starts in childhood, and we are so pleased to be expanding our provision in partnership with BFB Labs.
Manjul Rathee, CEO at BFB Labs said:
BFB Labs is delighted to be working closely with HMN on this new service which represents a novel approach to supporting children and young people early in a way that meets them where they are. We're excited that Lumi Nova for childhood anxiety will provide much needed safe and effective early intervention support especially to younger children in a fun and non-stigmatising way that can be accessed anytime anywhere.
Find out how Lumi Nova helped 11 year old Maisie to manage her anxiety in this short two minute report: 'Anxiety app helped me at my new school' says Essex pupil – BBC News
You can find out more about the With Youth Children and Young People's Digital Wellbeing Service at: www.withyouth.org
*Getting help for a Mental Health Crisis
Call HPFT's NHS freephone 24/7 helpline: 0800 6444 101 or
Call NHS 111 and select option two for mental health services
In the event of a life threatening condition that requires an emergency intervention, call 999 for the emergency services.