Young People's Social Prescribing Event
Posted:October 6, 2022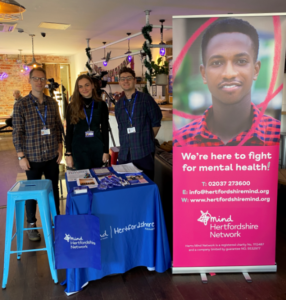 On Saturday 4th October – Hannah, Andrew, and Mike from the CYP team were delighted to promote Herts Mind Network's Children and Young People's services at the Thirst Youth Café, Bishop's Stortford.
This is a safe space run by Bishop's Stortford Youth Project. Young people can eat, relax, play and enjoy each other's company in a creative space, where they can receive support from experienced youth workers and positive role models.
Amongst the services we promoted were the Herts Youth Futures Project, our Children and Young Person's helpline, The Spot the Signs Emotional Wellbeing Awareness training and workshop programme, and our counselling services for anyone aged 16+.
We were delighted by the interactions from the parents, carers, and young people who visited our stall to learn about our services.
The event was live-streamed, so please see the video link below for a variety of interviews with local experts discussing young people's health provision, both in terms of physical and mental health.
Our Youth Engagement worker, Andrew, was involved in a discussion with GPs and Beezee Bodies about Young People's Services in the wake of the pandemic. This can be found by skipping to 1:41:40 in the below video on YouTube. 
https://www.youtube.com/watch?v=cG8lFlZ99KY
We'd like to thank the Young People's Social prescription service and the Thirst Youth Café for hosting us. We look forward to working with them again in the future!